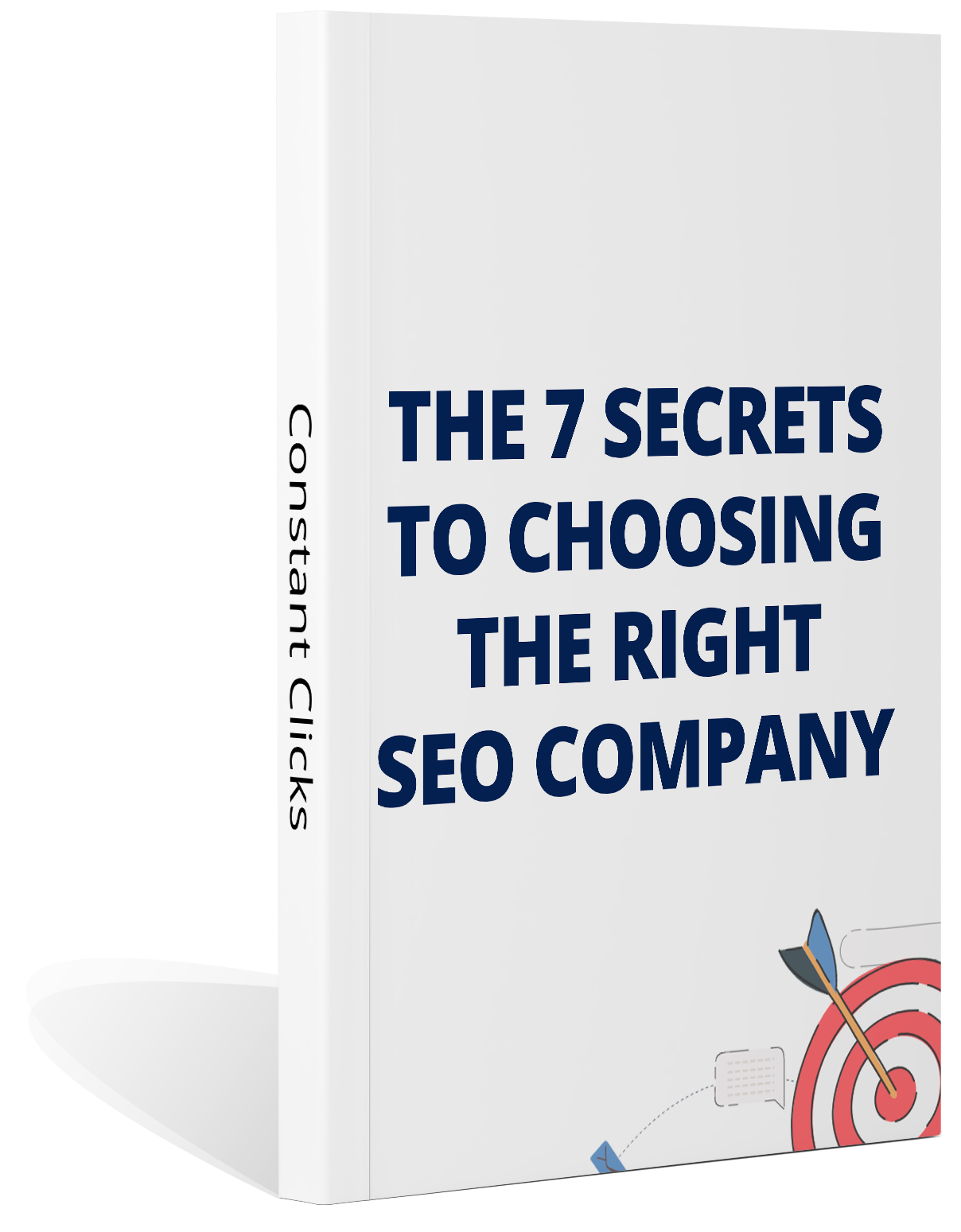 The 7 Secrets To Choosing The Right SEO Company.
With so many sharks in our industry, it has never been more difficult to find an ethical SEO company. But the good news is with the right insider knowledge you'll be able to spot the difference between a good provider and the one's that you'll want to avoid like the plague.
Discover what the SEO industry doesn't want you to know about.
Natasha Good
Positive: Professionalism, Quality, Responsiveness

The team have been a great help with gaining leads and sales to our business. We would recommend them to any business owner.
Mark Willis
Constant Clicks have been very helpful and successful in assisting me with improving my enquiries through ad words advertising campaigns. They have also been very helpful in providing assistance outside of the scope of our agreement to fix minor technical issues along the way. I recommend that you give them a chance to see what they can do for your business.
Emily Hruska
Positive: Professionalism, Quality, Responsiveness, Value
I'm so glad that I took a leap of faith and engaged the constant clicks team to help me with my advertising. My business has thrived thanks to their attention, care and thorough knowledge of the google ads process.
Everyone I have dealt with at constant clicks has treated me like my business was very important to them, and I have felt confident from day one that I have done the right thing.
Don't waste your time or money on google ads going it alone, the support and expertise of the constant clicks team is invaluable, and will help to grow your business quickly.
Travis Werry
Positive: Professionalism, Quality
In the past I tried a few Ad Word suppliers to manage my account. They talk the talk but didn't walk the walk… These guy get the job done.
Always willing to help when ever i want something altered.
Very knowledgeable.
Carol Armstrong
Positive: Professionalism, Responsiveness
Since signing up with Constant Clicks in November 2018 I've been working with Shaine on my campaign. He's been excellent to work with right from the start, offering good advice and helping to boost the campaign when needed. Thanks Shaine!
Kyran Harris
Phenomenal results, been on board for the last 2 years and the results just keep on coming.
Thanks to the team at Constant Clicks running Google Ads and Search Engine Optimisation, I'd more than quadrupled my turnover in the first 6 months.
Dominick Romero
We are working in education sector and have found them very efficient and productive people. Their support definitely helped us grow and will be using their services again and will recommend them to any sort of business.
Hayden McCurry
Brilliant organisation. Constant Clicks have exceeded our expectations in every regard and delivered a faultless AdWords campaign. Thanks Brett and the team. Much appreciated.
Louise Falwasser
I've been running my small business for 9yrs and every now and then- suddenly the phone stops ringing. Each time Constant Clicks has rejuvenated my campaign and the phone rings once again. Thank you for your great work and I will continue to use your expertise. Louise's Pet Grooming
Tom Riddle
5 stars all around.
Shaine helped optimise my Google campaign and now it's actually generating leads. Thanks guys
Laura Di Leva
I have used Constant Clicks for a number of years and they are professional in their service delivery and customer care. They follow up regularly and always try and improve their service offering. Great to work with!
Edwin Giliams
Max and the team have been very helpful with our digital marketing needs and our business has grown handsomely.
Highly recommend calling these guys!
Contact Memento
We have been working with constant clicks for several months now and couldn't be happier with the results. Claudia is very helpful and goes above and beyond for us to make sure we get the best results and understand what is going on. Constant Clicks is our only method of paid advertising and they have definitely brought a return on investment. Could not recommend Constant Clicks and Claudia enough.
Shane Paterson
★★★★★
We have recently moved across to constant click from another advertiser and we couldn't be happier. The communication is fantastic and nothing is too much for these guys. Great Work Guys!!!!
Michael S
Constant Clicks helped us reach our growth targets in the first month of bringing them on board and we're now far exceeding them. Their knowledge and insights are fantastic and has helped us tweak our strategic direction. Looking forward to the ongoing support of Brett and the team to help our continued growth 👍
Melbourne Music Centre
Sick of all the hype and empty promises?
I highly recommend Constant Clicks as a company that's both efficient and a delight to work with. Knowledge levels are great and attention to detail excellent. Their most notable asset is a pleasant, no BS approach to their work . Best of all, there are no idle promises or language barriers to overcome.
My company has doubled its turnover and upped its ROI considerably in a relatively short period of time. Keep up the good work, team!
FIVE BIG FAT SHINY ORANGE STARS !! 🙂
Valeria Lovric
It was easy to work with Constant Clicks as they were quick to return my emails or calls and followed my instructions. They are professional and delivered results that I needed for my company.
Tim Parry
Constant clicks is great! They are with you the whole way and go above and beyond for you. I was paying heaps per click and wasn't getting many calls. I now pay hardly anything per click and get great compliments from my customers about my ad that made them use me. Well worth it.
Super Castles
Max from constant clicks has been great. Great communication & I'm seeing results! Would recommend this company to anyone
Samantha Crossley
Amazing company, they have really turned things around for us, can't fault them. Shaine really knows his stuff and so fast at getting things done. Highly recommended!
SiteSmART Australia
We have been with Brett and the team for about 4 years. Over that time we have found them to be extremely honest, transparent and they have always got our back. Thanks guys, your the best!
Mark Kirby
The guys and girl at constant clicks are extremely genuine about driving business results for my company and are really easy to talk with and are down to earth.
Mark Meerwald
Wow, I started to add words with Shaine and have never looked back. This was my first time. Shaine guided and educated me and with my feedback narrowed down my dream clients' search field so that my average lead has increased 200 percent and also have won the biggest jobs ever. Thank you Shaine I look forward to your awesome work.
Justin Dunn
Hi Definition Av have been using Constant Clicks for over 5 years now. Our business what not be where it is if not for the Constant Clicks team. Brett is always on the ball and ready to help out with Adwords and other web related problems we may have. Thank you Constant Clicks, keep up the amazing work.
Heath Donald
These cats know how to make your SEO purr! Great working with them.
Shamone Zarins
Constant Clicks are an amazing team that is professional, friendly and most importantly have helped our business expand. Would highly recommend any business use them to increase your business.
Allison Lewis
Constant Clicks achieved a far better result in 3mths for my business compared to 12mths with my previous advertisers which showed me no results at all. 110% happy with their work. Would MOST DEFINITELY recommend Constant Clicks to other businesses.
Peter Smith
Claudia really knows her stuff with adwords. We have seen an increase in business since we started with her and would recommend her to anyone thanks for doing a top job 👍
Shane Naylor
Great company to deal with, i got in contact with them after not getting results with my previous company. These guys asked me what results i wanted then set about turning my online presance around, now i find my self often swamped with work! They always check in and make changes and updates to keep me getting the type of jobs i want and top positions on google.
Candice Johnson
Happy to deal with a local company, operating in the same space as my customers and I . I always get prompt replies to my emails and can get campaigns changed instantly where I need it. Over the the time (2+ years) I have engaged Constant Clicks my business has grown where others in the same field have faltered. Definitely worth the money.
David Bailey
Brett and the team very easy to work with, very reasonably priced and have increased my online presence by 80% in two year. Highly recommend!
Peter Hobson
I have been an internet marketing for over 15 years. During that time, I have seen them come and seen them go.
Not many have the skills to keep ahead of the curve or the inclination to the continue the self-improvement required for themselves personally and then for their clients by educating them and passing on what they learn. Brett Simpson of Constant Clicks is the only person I trust in doing our AdWords Marketing.
We have many new products we are introducing and you know exactly who we will be using, Constant Clicks. Brett and his team constantly keep delivering. In this day and age, you cannot do it all and if you are you are kidding yourself. When the time comes to outsource your AdWords Brett Simpson and his team at Constant Clicks is who you should be using.
Shiraz Mohammed
We have been using CONSTANT CLICKS for a while now and are really happy with their products and services that they have offered us.
Our business has got really busy now with lots of traffic coming through from all over the town.
We would definitely recommend Brett & Shane from CONSTANT CLICKS for any businesses out there who are looking to grow their businesses
Cheers Boys
Andrew Mctienan
Would highly recommend!
James Somerville
I have been with Brett at Constant Clicks for 6 months and our business is starting to see the results. We are definitely getting a higher call rate and bookings have picked up since they have taken over our account.
Shibu Joseph
100% satisfied with the professional work and service rendered by them.
Romana Popovic
Brett is looking after our campaign really well, improving listing all the time, fresh ideas, updates, keeping us informed…great job!!!
Todd Maunder
Have worked with Brett and the team for the past 5 years. Sound advice and a quality service.
Alicia Rapa
Constant Clicks has helped me boost my business online. The results where instant and they are always there to help you when needed.
Corey Isard
A grade professional service!!!
★★★★★
4.5 Star Google Rating

Head Office Australia
Constant Clicks Pty Ltd, Toowong Tower, Level 5, 9 Sherwood Road Toowong, QLD 4066, Australia.